Just click it to print it...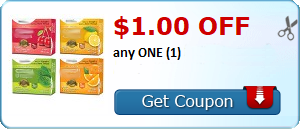 Salad's a snap for tonight's barbecue!
A box of Suddenly Salad® mix and a few extras are all you need.
Ingredients
1box Betty Crocker™ Suddenly Salad® ranch & bacon pasta salad mix
1/2 cup ranch dressing
1/2 teaspoon dried dill weed
1 1/2 cups small broccoli florets
1/2 cup thinly sliced red bell pepper, cut into bite-size strips
1/2 cup cucumber slices, halved
4 medium green onions, sliced (1/4 cup)
Directions
1 Empty Pasta mix into 3-quart saucepan 2/3 full of boiling water. Gently boil uncovered 12 minutes, stirring occasionally.
2 Drain pasta; rinse with cold water. Shake to drain well.
3 In medium bowl, mix seasoning mix, dressing and dill weed. Stir in pasta and remaining ingredients. Store any remaining salad covered in refrigerator.
Kroger has them $1.66 each
Don't forget we have a
Suddenly Salad Savingstar offer as well!
Just Click it to load it...