Buy one Bear Naked Granola Bar Single, $1.59
Use $0.50/1 Bear Naked Granola Bar Printable
◄
Receive $1 UP
Final Price: 9¢
If you have a Rite Aid Gold Card, you probably already know you'll get 20% off all regular priced items. The same deal becomes a moneymaker!
Buy one Bear Naked Granola Bar Single, $1.27 ($1.59 minus 20%)
Use $0.50/1 Bear Naked Granola Bar Printable
◄
Receive $1 UP
Final Price: FREE Plus a 23¢ moneymaker!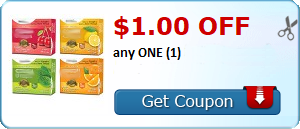 Top Rite Aid Deals of the Week 3/1-3/7/15◄
Thanks Couponaholic!
Stefanie is a married stay at home mom with a 2 year old daughter, and resides in North Carolina. She is an accomplished couponer specializing in saving money at many stores, but her favorites are Harris Teeter, CVS, and Walgreens. When she's not couponing or deal hunting, she enjoys playing with her daughter, baking, cooking, hiking, skiing and taking Zumba classes.